Welcome!
Oxford School of Advanced TESOL Studies is located in Oxford, UK, a leading centre of world-class learning, teaching and research.
Oxford School of Advanced TESOL Studies is a private research institution that supports the global community of English teaching practitioners through rigorous research, online professional education and ample networking opportunities.
Join us if you seek to enrich your teaching practice with new theoretical knowledge and hands-on experience in the vibrant transdisciplinary ELT/TEFL/TESOL field.
Online Oxford TESOL Qualifications
Most popular TESOL qualifications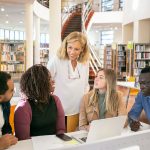 Contribute to the TESOL field of study in a world's leading research hub
English Language and Literature for Educators
Improve your understanding of the English language and its use in different contexts
TESOL Business Administration
Fostering professional and organisational growth
Oxford TESOL Accreditation Centre
Become officially recognised for curriculum quality and teaching excellence within the TESOL industry!
CONSIDERING THE NEXT STEP IN YOUR TEACHING CAREER?
Study towards an Oxford TESOL qualification with us.
Registration closes on 10 January 2024.